Which Vitamin Deficiencies Can Cause Hair Loss? Find the Root of the Problem
Whether you're noticing a little more hair in your brush than usual each morning or you're experiencing major hair loss, losing your hair can be scary.
A small amount of hair loss as you age is completely normal and happens to all of us.
However, if you find yourself suffering more than average hair loss, it may be caused by an underlying issue — including a vitamin deficiency.
In this article, we discuss which vitamin deficiencies can cause hair loss and what you can do to keep your crowning glory on your head right where it belongs.

Table of Contents
Which Vitamin Deficiency Causes Hair Loss?
Vitamin Deficiencies That Cause Hair Loss: Focus on These 3 Vitamins for Hair Health
Other Vitamin Deficiencies To Consider if You're Experiencing Hair Loss
Vitamin Deficiencies Causing Hair Loss: FAQs
VTMN Packs: Personalized Vitamins and Supplements To Treat Your Deficiencies (Including Hair Loss) Delivered Right to Your Door
Which Vitamin Deficiency Causes Hair Loss?
While there is not one specific vitamin deficiency that definitively causes hair loss, there are several that may contribute to the problem of thinning hair.
You may notice hair loss if you are lacking in B vitamins, vitamin D, or collagen.
The Misconception Surrounding Biotin and Hair Health
Many people believe that biotin, also known as vitamin B7, is the supplement for hair loss. However, according to research, there isn't evidence to support this claim.
Not only does biotin not do much to contribute to the health of your hair, but the supplements and products that contain biotin often contain an amount that is much higher than the recommended daily allowance.
So if you're taking a biotin supplement, you may be overconsuming it.
Vitamin Deficiencies That Cause Hair Loss: Focus on These 3 Vitamins for Hair Health
Vitamin B-Complex
Vitamin B complex is a group of eight water-soluble vitamins (including biotin) that encourage your cell development and metabolism.
Since B vitamins are water-soluble, your body isn't able to store them and whatever it can't use is excreted in your urine. This is why you need to consume just the right amount of B vitamins each day.
Some food sources of B vitamins include:
Whole grains
Vegetables, including kale, spinach, Brussels sprouts, and broccoli
Meat, especially organ meats such as beef liver
Fish, including salmon
Oysters, clams, and mussels
Whole eggs
Beans and legumes, like peas, kidney beans, and chickpeas
Nuts and seeds
Avocados
While dietary sources of B vitamins are always the best option, many people may find they need to have additional supplementation to meet their dietary needs.
A methylated vitamin B complex is a great place to start if you want to fill in vitamin deficiencies that cause hair loss.

How Does Vitamin B-Complex Help With Hair Loss?
While a methylated B Complex contains all the B vitamins, here are a few that have been proven to be the most beneficial when it comes to hair growth:
Vitamin B1 (Thiamine) — B1 plays a crucial role in hair growth by converting the nutrients you get from the foods you eat into energy that your body can use. It is especially helpful for maintaining a healthy scalp. Vitamin B1 decreases the constriction of your blood vessels and improves both the blood flow and oxygen circulation to your scalp, which helps move vital nutrients to your hair follicles for healthy hair growth.
Vitamin B3 (Niacin) — Your body uses vitamin B3 to convert niacin into nicotinamide adenine dinucleotide (NAD). This coenzyme helps provide plenty of moisture to your scalp and hair and is key to fighting dryness and dandruff.
Vitamin B6 (Pyridoxine) — Vitamin B6 plays a vital role in the production of blood hemoglobin, which carries oxygen for the repair and production of cells in your body, including the cells responsible for hair growth. B6 is also a big player in supporting hormones, which can directly affect your hair growth.
Vitamin B12 (Methylcobalamin) — Vitamin B12 is an essential vitamin for the production of energy in your body. It also plays a major role in the growth of your hair by helping your body produce healthy, oxygen-rich red blood cells and stimulating your hair follicles.
Vitamin D
Vitamin D is a fat-soluble vitamin that is responsible for increasing your intestine's absorption of calcium, magnesium, and phosphate.
Some great food sources of vitamin D include:
Cod liver oil
Fish, like salmon, swordfish, sardines, and tuna
Beef liver
Egg yolks
Mushrooms
Another easy way to boost your vitamin D levels is to enjoy some time in the sun.
How Does Vitamin D Help With Hair Loss?
Vitamin D is an immune system booster that keeps your skin and bones healthy. It also helps create new hair follicles while giving your current ones the nutrition they need to maintain optimal strength and health.
Once inside your body, vitamin D is metabolized by the cells that produce keratin, the protein found in hair, nails, and skin. If you don't have enough vitamin D, the keratinocytes in your hair's follicles may not have the energy they need to function properly, resulting in disruption of your hair's growth cycle.

Collagen
Collagen is the primary structural protein found in your body's connective tissues. It is responsible for creating the scaffold that supports the structure and strength inside your body and is an essential component of your connective tissues. It also plays a crucial role in the growth and health of your hair, skin, and nails.
Foods that are rich in collagen include things such as:
Bone broth, including chicken, beef, and pork
Chicken with the skin on
Spirulina
Eggs
Organ meats such as hearts, brains, and kidneys
Sardines
How Does Collagen Help with Hair Loss?
Collagen is a protein, and your hair is made up of protein.
If you are consuming the right form of collagen, it will help build up the protein in your body and infuse your hair with the strength it needs to keep it from breaking and falling out.
There are three common types of collagen, with types I and III being the most beneficial for hair growth. These include:
Type I — This form of collagen makes up 90% of your hair, skin, nails, organs, bones, and ligaments and is known for its skin and hair-related benefits.
Type II — Type II collagen is mainly sourced from chickens and is famous for its ability to support your joints and boost your immunity.
Type III — Type III collagen helps support your cardiovascular system, skin, hair, and bones.
If you're seeking a collagen supplement, be sure to choose one that contains both types I and III for the maximum benefits.

Other Vitamin Deficiencies To Consider if You're Experiencing Hair Loss
As you're considering vitamin deficiencies that cause hair loss, here are a few others you will want to take note of:
Zinc — Zinc is a critical component for the growth and repair of tissue, including keeping the oil glands around your hair follicles operating at their optimum capacity. Zinc deficiency is a common cause of both brittle hair (telogen effluvium) and thinning hair.
Iron — Your body uses iron to create hemoglobin, which supplies vital nutrients and oxygen to your cells. If you're deficient in iron, your body goes into survival mode and will only send oxygen to your most fundamental organs, which does not include your hair follicles.
Vitamin E — Vitamin E is a vital antioxidant that helps protect your cells. It is renowned for its hydrating and nourishing effect on the skin, creating a protective barrier on your scalp that helps your hair stay healthy and hydrated.
Vitamin C —Vitamin C helps your body produce collagen, which is a critical component of healthy hair growth. Its powerful antioxidant capabilities also aid your body in the absorption of zinc, which helps ward off hair loss.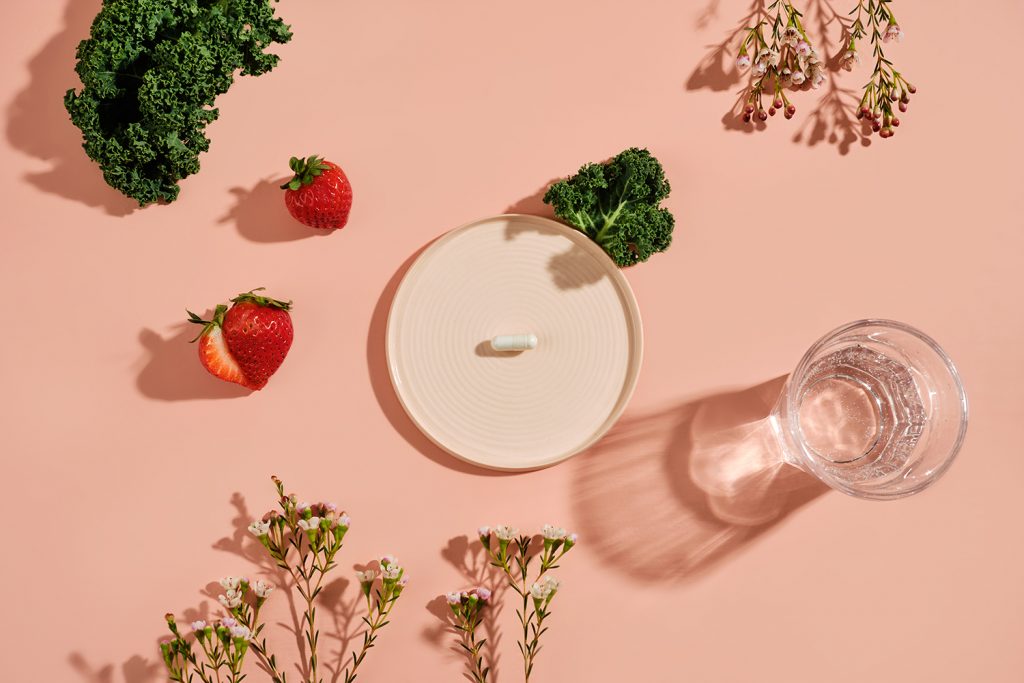 Vitamin Deficiencies Causing Hair Loss: FAQs
Can Too Much Vitamin D Cause Hair Loss?
While it's been said that too much vitamin D may cause hair loss, there is no research available that supports this claim. However, approximately 32% of Canadians are deficient in vitamin D, so having your levels checked is a good idea if you're suffering from hair loss.
Where Do I Find High-Quality Supplements to Treat My Vitamin Deficiency?
These days, you can choose to buy your vitamins from hundreds of different sources, from online retailers to your local drug store.
But it is important to remember that all supplements are not created equal. That's why you should only purchase the highest quality of vitamins and supplements to treat your vitamin deficiency and provide the optimal nutrients for hair growth.
At VTMN Packs our team selects only the best of the best Canadian vitamins and curates your packs based on your personalized health assessment.
And you'll be glad to know that our products are made by Canadians, for Canadians, following only the strictest regulations. Visit VTMN Packs today to learn more about the most convenient way to purchase and manage your daily vitamin intake.
VTMN Packs: Personalized Vitamins and Supplements To Treat Your Deficiencies (Including Hair Loss) Delivered Right to Your Door
VTMN Packs is a personalized vitamin and supplement service that takes the trouble and guesswork out of staying healthy.
We provide you with a monthly supply of all the vitamins and supplements you need — in convenient daily dose packets that make it easy to stay on track and get the most out of your wellness regimen.
There's no need to store a cabinet full of supplement bottles. Simply subscribe to our monthly service and have your vitamins shipped straight to your door.
Staying healthier doesn't get easier than VTMN Packs.
Discover our personalized, holistic approach to health today!
The content in this blog is not intended to be a substitute for professional medical advice, diagnosis, or treatment. Always seek the advice of your physician or other qualified health provider with any questions you may have regarding a medical condition.